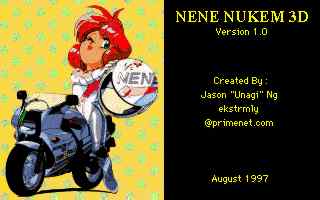 What is it?
Nene Nukem is a modification patch for the game Duke Nukem 3D. It imports the character Nene (pictured above) from the Japanese animation series Bubblegum Crisis into the game Duke Nukem 3D. Some highlights:
Compatible with ALL versions of Duke Nukem 3D (Shareware and Registered; PC and Macintosh).
Sounds including new Nene quotes, bonus screen music and two rockin' new ending themes!
New subtitled cinematic sequences from Scoop Chase!
Pay your respects at the all new LINNA SHRINE.
Catch an anime flick at the movie theater.
Nene shower sequence!
Anime artwork from Bubblegum Crisis, AD Police, Gall Force, and more. Plus hidden hentai (some not so hidden, DYO!). Find every secret, flip every switch. You'll never know what you'll find!
Fight for your life against a BU-12B Battle Boomer!
Lions, tigers and Dobermans! Oh, my!
Duke sprites have been replaced with 3D rendered Nene! Have Nene Matches with all your friends with everyone in hardsuits! For Nene Matches, all players MUST HAVE IDENTICAL Nene Nukem files in their duke3d folders and all computers MUST BE configured IDENTICALLY in the SETUP program.
Modification of the Remote Ridicule System. Taunt your opponents in Japanese!
Some screen shots of the game:
Where do I get it?
Download Nene Nukem here!
nenenkm1.zip
nenenkm2.zip
And for Unago's next trick: SW!



Any questions or comments about the software archived here should be directed to Unagi himself via email at: ekstrmly@primenet.com.
If you have any comments about the website please email the webmaster.
---
BACK to BGCNukem | www.ravensgarage.com
---