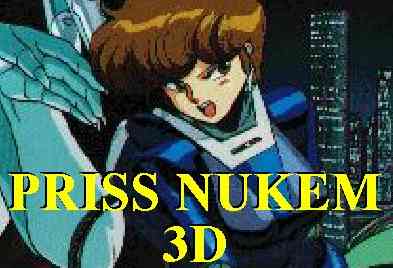 Priss Nukem
by Unagi (ekstrmly@primenet.com)
What is it?
Priss Nukem is a modification patch for the game Duke Nukem 3D. It imports the character Priss (pictured above) from the Japanese animation series Bubblegum Crisis into the game Duke Nukem 3D. It includes such cool features as:
Compatable with both Mac and PC versions of Duke Nukem! (Mac and Atomic version requires an additional download, see below.)
Battle for your life against a fully rendered Bu-12B combat boomer!
Duke sprites have been replaced with 3D rendered Priss! Have all your friends install Priss Nukem, then have Priss Matches with everyone in hardsuits!
Sounds, including new Priss quotes, bonus screen music and a rockin' new ending theme!
Modification of the DUKE.RTS file. Ridicule your opponents in Japanese!
Modification of all weapon sprites! Older weapons have been tweaked to improve performance. Newer weapons have been completely redone.
Bubblegum Crisis Artwork is everywhere! Other anime artwork is also lurking about. Find every secret, flip every switch, you'll never know what you'll find.
Additional graphics and sounds for Registered Versions of Duke! For those of you who have the Atomic Version of Duke Nukem, Babeland is now BABELAND (WARNING HENTAI). Also, visit XXX- Stacy's Video Productions (WARNING HENTAI).
How about some screen-shots?
You want it?
Download Priss Nukem here!
PRISS1SE.ZIP
PRISS2SE.ZIP



Any questions or comments about the software archived here should be directed to Unagi himself via email at: ekstrmly@primenet.com.
If you have any comments about the website please email the webmaster.
---
BACK to BGCNukem | www.ravensgarage.com
---