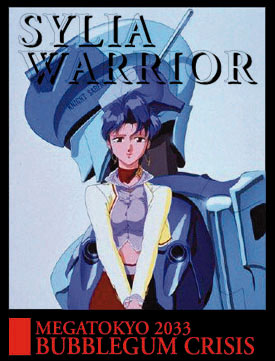 SYLIA WARRIOR
By Unagi
Welcome to UnagiArts's latest creation, Sylia Warrior! Continuing the tradition of game patches started with Priss Nukem and Nene Nukem, Sylia Warrior transplants the character Sylia Stingray from the Japanese Animation (anime) series Bubblegum Crisis into the world of Shadow Warrior, 3D Realms's bad ninja-flick spoof video game. (Actually, a little more than just Sylia seems to have migrated into Shadow Warrior from BGC.)
The full version of Sylia Warrior has arrived!! You may "upgrade" your DEMO version of Sylia Warrior by downloading and installing SYLIAW4.ZIP through SYLIAW7.ZIP. If you do not have the DEMO version installed, you must download ALL the .ZIP files.
Here are some screen-shots:
That was messy! (640x218, 49k)
Press any belly-button to continue. (640x480, 88k)
"That's no ordinary rabbit..." (640x480, 139k)
Download Sylia Warrior here!
The required .ZIP files:
SYLIAW1.ZIP
SYLIAW2.ZIP
SYLIAW3.ZIP
SYLIAW4.ZIP
SYLIAW5.ZIP
SYLIAW6.ZIP
SYLIAW7.ZIP



Any questions or comments about the software archived here should be directed to Unagi himself via email at: ekstrmly@primenet.com.
If you have any comments about the website please email the webmaster.
---
BACK to BGCNukem | www.ravensgarage.com
---